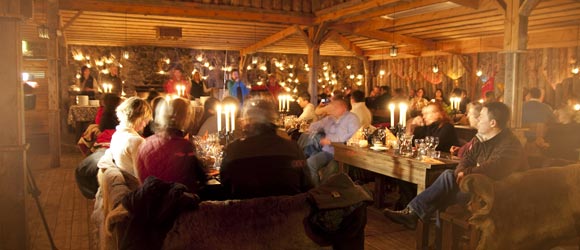 Joren Luontomatkat – Finland's Nature & Adventure
Welcome to the world of successful events
20 years of experience at your service
We are a full service Event Management, Tailored Adventures, Destination Management, Incoming and Tour Operator Company in one package.
That's why we can offer you a wide range of excellent services trough whole Finland.
We're still a small, but flexible agency with a huge history. We are a real company. With real people. And real experience.
We've been able to thrive for over 30 years because we never forgot that it's
Your
show. It's
Your
event. It's
Your
project. We're just here to help and organize.
400 destinations and co-operators
Each year we organise about 200 hundred different events for our corporate customers.
Our strong team of professionals and approximately 400 destinations and cooperation partners guarantee you the event of a life time.
Wilderness or city, summer or winter, day or night, - you name it, - we got it.
20 years of experience has made us number 1 in incentive trips and high standard corporate meetings organizer in Finland, varying from south to north, east to west.
Event Management companies need to know what they are doing. We have developed our knowledge during 20 years and hundreds of corporate customers have trusted on our services. They can't be wrong.
This is our profession, this is our passion.
A team of professionals
We have a team of skilled professionals who feel passionate about all our projects, whether they are international or local, large and corporate or small and private.
We have continually developed our extensive special event knowledge and capabilities.
We thoroughly understand that the planning phase is as important as the actual event itself, and our event team prides itself on a strict attention to detail balanced with a sky's-the-limit focus on creativity.
Planning and creativity
Our goal is to provide event experience that meets all of your organization's objectives. To do so, we lay the groundwork during the planning phase; our team collects as much information about your event needs and coals as possible.
Once we have that information, our experts bring your concept to life by using the latest technology and old-fashioned creativity.
You'll never have trouble getting your event manager on the phone. We're here when you need us.
It's all about our clients
We understand how to get things done -but more importantly, how to get results.
It's not about how many items are on your work list and whether you get them done. It's about whether the right items are on the list to begin with.
And it's not about how much money is spent on a campaign or a program... it's that you're doing things that make your attendees feel that everything is taken care of.
It's all about our clients. This is our philosophy. This is what we strive for.
Moment by moment
We have learned to direct the event moment by moment. We don't like bad surprises on event days. In order to prevent unwanted surprises, we plan, we install, we test and we always develop a backup plan.
In one sentence: We have learned to be professionals in what we do. Same as our customers are, too.